Posted by STNGR USA on Mar 15th 2021
The areas where your weapon makes contact with your body are some of the most crucial to accurate shooting. With the AR 15 these areas are the:
Stock

Pistol Grip

And Handguard
The aftermarket for the AR series is big enough to fill a Costco or two, so it can be hard, and downright confusing to choose the right parts and accessories for you. This massive aftermarket is great though because it breeds innovation.
Each of these points of contact could have an article unto themselves, and they likely do. Today we are going to focus on the AR 15's Handguard and leave you with the information to choose your own.
Handguards fall into two categories these days, free float or drop in. If you did a quick search of the market, you'd find that free-floating handguards are starting to outnumber drop in handguards. Each has their pros and cons, but with a market dedicated to performance-based designs, the Free Float Handguard is a much better choice.
Free Float Handguards offer numerous advantages, including:
Aid in accuracy by not placing pressure on the barrel

Steadier for use with laser aiming devices

Handguards can be longer and more ergonomic

Longer Handguards offer more mounting space
Drop-In handguards do tend to have a great price range. For example, you can purchase a cheap set of two piece M4 style plastic handguards for about ten bucks, and they'll work. Just remember you get what you pay for. If you are trying to clone a US Military rifle, then a drop in rail is likely the route you'll have to take.
In this day and age, free float handguards offer more than drop-ins. This is why free-floating handguards are being experimented with elite units under JSOC command. CRANE published a document even showing their experiments with Keymod and M-LOK.
Free Float is the way to go, but with such a large market, how do you choose a free floating rail? Well, I have five factors you should consider.
I'm not a gunsmith by any means, but with the AR 15 you should be able to install the handguard on your own. Installing a handguard should not require shims, lapping, or buying a different barrel nut until it works.
A free floating handguard attaches over a barrel nut which is what holds the rail to the gun. This barrel nut can be either a timed or a non-timed nut. A timed design is the source of frustration when it comes to installing a handguard.
These designs require it to be lined up exactly with the gas tube hole to allow the gas tube to insert itself into the upper. What happens if you get it tightened down and it doesn't align? Get ready to want to bang your head on a desk.
At this point you get to consider lapping it, adding shims, or just getting a new nut and hoping it works.
A non-timing installation means the barrel nut is installed and pretty much forgotten about. The nut is installed perfectly from the get-go and the gas tube goes over the barrel nut instead of through it. It doesn't get simpler than a non-timing installation.
All STNGR USA free float handguards offer simple non-timing installation and anti-slip mounting technology
One of the most common issues with free-floating handguards is the handguard slipping forward. This typically happens slowly, and for low volume shooters, it may only happen at fractions of an inch.
Besides the obvious handguard just coming off the nut, you could start to see a loss of zero for laser aiming devices and even iron sights. The more the handguard slips, the less stable it will become, and it may be affected with up and down movement as you fire.
Poor mounting systems may also cause rotation, which is an issue that can cause the exact same issues we listed above.
Most people would suggest Loctite, which is okay. The issue is Blue Loctite is non-permanent and can become loose when heated. Red Loctite resists heat but is essentially a liquid weld. Neither is optimum.

What does work is a modern locking system integral to the barrel nut. These anti-plates prevent rotation and slippage and are at the core of STNGR USA handguard designs. This not only ensures the handguards are locked in place round after round, but it simplifies installation.
Is your handguard capable of mounting accessories? If so, what mounting system does it use? Some of the earliest free floating rail systems were just metal tubes. They were built for accurizing rifles for precision shooting.
Times change and so do rails. Modern Free Floating rails utilize modern modular locking systems known as Keymod and M-LOK. These two systems allow the end user to mount countless accessories:
Lights

Lasers

Foregrips

Bipods

Coffee Makers
I might have made that last one up, but you can attach a lot to a modular handguard. M-LOK and Keymod designs allow attaching Picatinny rails to the handguard, or direct attaching accessories through the slots.
Direct attachment gives you cleaner and easier to use mounting options. Some rails will incorporate a hybrid of both traditional Picatinny rail and a modular system to allow easier attachments. This will take the form of small sections of rails near the front of the handguard to allow quick attachment of dedicated accessories like bipods and lights.
Often the top of the handguard will run a full-length Picatinny rail system that will accommodate optics and add ons like magnifiers or night vision devices. This rail keeps everything on the same plane and ensures optics will be appropriately aligned.
Being picky is perfectly natural when it comes to choosing an attachment system. I would heavily suggest sticking with Keymod or M-LOK. Proprietary systems rarely work out in the long term.
Have you ever shot a hundred rounds in a relatively short period? Your barrel gets hot, and your handguard can get a bit tough to touch as well. The key to preventing this is ventilation. The ventilation provided by M-LOK or Keymod slots is not enough for your average shooter, much less a hardcore shooter.
Additional cuts not only reduce weight, but allow the barrel to ventilate better. This keeps the handguard from getting too hot to hold. Additionally, this allows the barrel to cool a little faster, which can help with barrel life.

Admittedly, if you are dumping a ton of rounds, no handguard is just going to stay cool the whole time. A well-ventilated model will at least cool much faster when allowed to rest between strings of fire.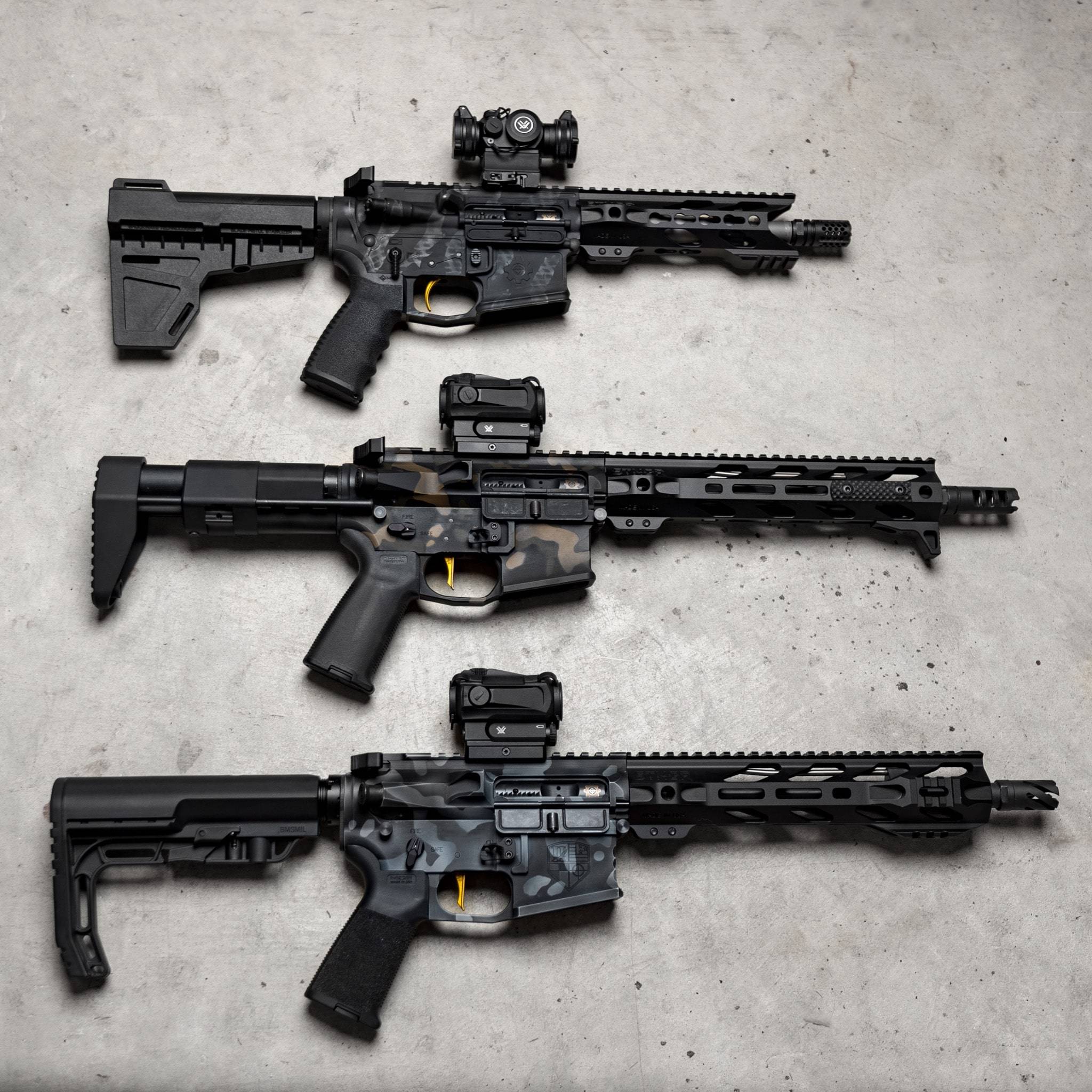 The handguard sits in an interesting area on a rifle. You need it to be robust enough to handle, and to attach accessories too. At the same time, you need it to be light enough to resist throwing off the balance of your rifle.
You also want it to be long enough to provide a good grip and mounting surface, and light enough to keep the rifle balanced. Modern, ventilated, free float handguards often strike the right balance between length and weight.

Proper reinforcement of the areas where accessories are mounted is another. The use of hardened aluminum, in the T-6 6061 range, is perfect for handguards. Finish it with a Type III anodized finish, and you can have both a long and light handguard that's tough enough to last.
There is no reason not to be picky when it comes to choosing a handguard. One of the biggest things to remember is that it's a "you get what you pay for market." I would encourage you to do a healthy dose of research and examine your needs for an AR 15 handguard. Remember to consider your time, your skill level in assembling a gun, and your needs.
At STNGR USA, we offer premium USA Made handguards at an honest price. With an incredibly simple non-timing installation, modern anti-slip mounting system, and extremely well ventilated design, get ready to increase your accuracy and take your AR to the next level.
---