Posted by Philip Pages on Oct 21st 2022
Buying an AR 15 handguard in 2022 can be a confusing process. With so many choices, terminology and conflicting information, it's hard to know if you're really choosing the right option.
That's why we created the Ultimate Guide to finding the Best AR-15 Handguard in 2022.
First we walk you through key things to consider ranging from M-Lok vs KeyMod, material types, things to watch out for and more. Once you have a solid understanding of the important things to look for, we dive into our picks with our thoughts and pros and cons of each (no handguard is perfect!).
Each handguard on the list was hand selected based on manufacturer reputation in the industry, product quality and long term durability.
Feel free to use the navigation below to jump to the section you need to or start from the beginning.
Without further ado, let's get started!
Click on one of the links below to jump to a specific handguard review in the article.
As the name suggests, a handguard (also known as a forend, forearm, or rail) is an accessory that attaches to your rifle and guards your hand from the barrel. More specifically, the handguard is installed onto a barrel nut and secured to the upper receiver. You can find it surrounding the barrel. Without a handguard you'd be forced to grab onto the barrel directly. Depending on how aggressively you shoot, a barrel can get up to 1000° F. It goes without saying but handguards serve a pretty critical function.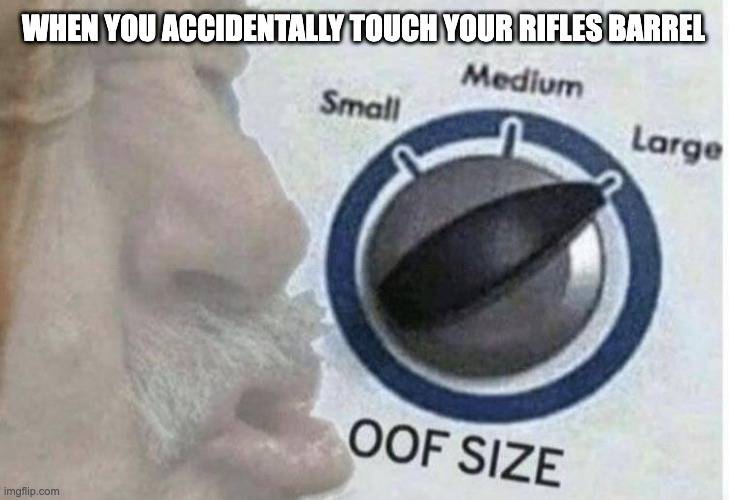 Beyond the basics of protecting your hands from the scorching barrel, handguards are also used for the attachment of various accessories ranging from bipods to lasers to irons sights and more. Most sporting rifles including the AR-10 and AR-15 heavily utilize handguards and a rich aftermarket has developed.
Free Float Handguard vs Drop In
Free-float handguards are a type of rail stytem that only attaches to the handguard at one point - the barrel nut. Drop in handguards are 2 pieces that are held together by your rifle's delta-ring. They make 2 points of contact with your firearm.
While they may require a little more work to install, free float handguards have a few advantages over their drop in handguard counterparts.
First, because free float handguards don't make contact with the barrel (they only attach to the barrel nut which attaches to the upper receiver), they aren't at risk of barrel warping which has been shown to reduce accuracy.
Second, it's possible to get a free float handguard that extends right up to the muzzle device. This increased sight radius increases accuracy.
Lastly, free float handguards often come in a much more diverse range of styles. Aesthetics of your rifle are important and it will be much easier for you to find the right flavor you're looking for.
That said, drop-in handguards are still a perfectly valid choice and have their place in the market. They're generally more affordable, easier to install and perfect for those that want to quickly modify the look and feel of their rifle without a lot of effort.
At the end of the day, it depends on what you are looking for. Everybody's preferences and shooting styles are different. So if you're happy with your choice, then that is all that really matters.
VLTOR's KeyMod mounting system came out in 2012 and Magpul's M-Lok mounting system followed shortly in 2014. Both gained cult followings and fierce debates on which mounting system was better followed shortly thereafter.
However, in 2017, USSOCOM (US Special Operations Command) conducted their own testing which effectively put that debate to bed. M-Lok was the superior platform.
Since then, the industry has moved away from KeyMod and most manufacturers have discontinued their KeyMod handguard lines and stopped making KeyMod accessories.
If you're buying a handguard in 2022, get one that's M-Lok. You'll be glad that you did.
We also wrote an in depth comparison on M-Lok vs KeyMod.
A quadrail is simply a handguard that has MIL-STD 1913 picatinny on all 4 sides. It can be both free-floating or drop-in and is used extensively by the US military. Before the M-Lok and KeyMod mounting systems came onto the market, picatinny was one of the main ways to mount accessories. This simple fact is a key reason why quad rails became so popular.
However, one of the biggest cons associated with these handguards is weight. Four sides of picatinny adds a lot of excesive weight - especially in areas that aren't being utilized. If you're only mounting a foregrip, there is still a lot of unused and heavy picatinny throughout your handguard.
In recent years, quad rails have seen a decrease in popularity as first KeyMod and then M-Lok burst onto the scene. Both of these options allow the user to mount accessories only in the areas they need them which translates into significant weight savings.
What materials should your AR-15 handguard use?

Right now, there are an incredibly large number of material options to choose from.
Take aluminum for example. Aluminum is aluminum, right? Not quite. Handguards are being made out of 6061-T6, 7075-T6 or even 6063-T5 (although, brands using this type of metal are likely cutting corners and 9 times out of 10 will be made overseas).
Then you have specialty metals like titanium or magnesium infused metals. Some brands are using carbon fiber and then there's a whole category of polymer handguards.
So what should you choose?
By far the most widely accepted industry standard for aluminum handguards is 6061-T6. The military frequently uses handguards made from 6061 aluminum and it's a solid option you can't go wrong with.
Polymer handguard quality tends to vary and not all polymer is made equally. You're generally going to be safe if you stick with reputable manufacturers but lesser known brands can put out a solid quality product as well.
Lucky for you we've done the legwork to find the best AR-15 handguards made from various materials from a whole host of manufacturers.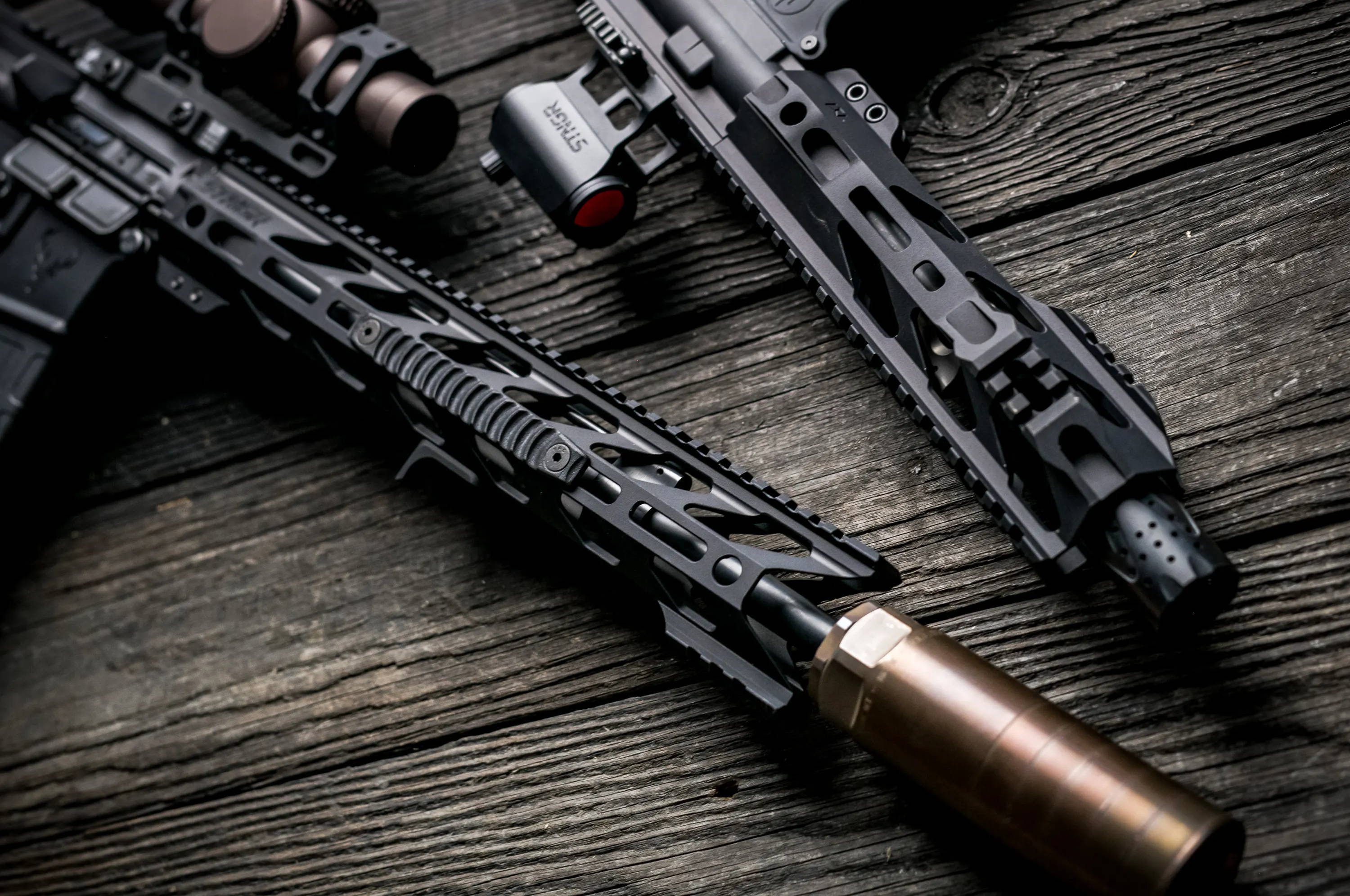 1) STNGR M-Lok Handguards (Best Overall)
Our pick for the overall best AR15 handguard.
With over 7,500+ 5-star reviews, STNGR free float handguards are the most reviewed handguards in the industry. They're used by SWAT, ERTs (Emergency Response Teams) and countless other branches of law enforcement but are also popular for competition, self defense as well as hobby rifles.
STNGR is based out of Texas and all their handguards are made in the USA.
They offer a few different models and my favorite by far is the HWK.
Save 10% with the code: BEST10
The HWK has a really cool aggressive beak like pattern cut on the front.
If you're somone who likes to grab closer to the muzzle device, the natural slope of the HWK makes for a great barrier to place your hand against.
It also includes 4 integrated Quick Detach (QD) mount points in order to add a sling.
We've done a full in depth review on the HWK.
STNGR also makes a more no-frills option called the VYPR.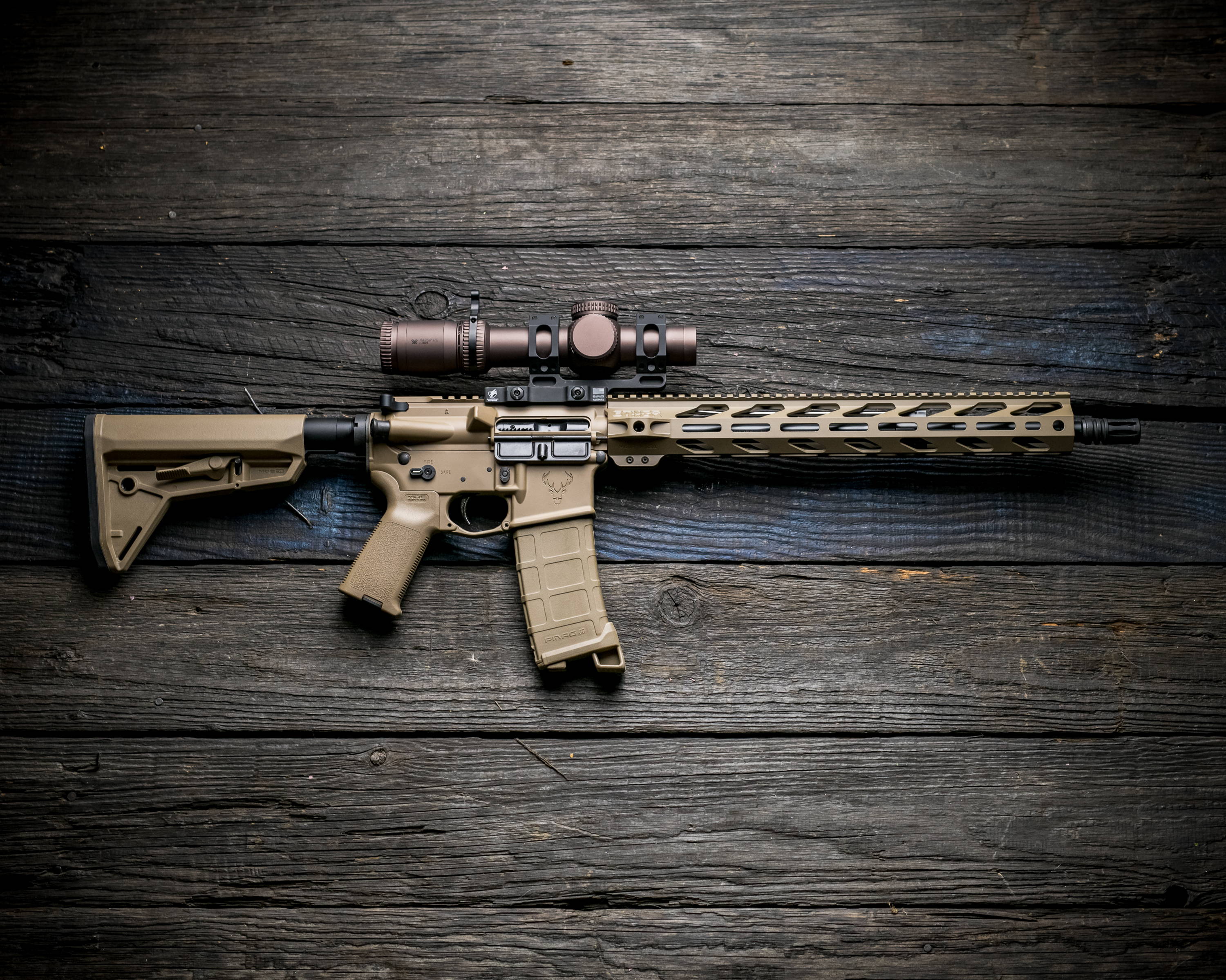 The VYPR has a much more "classic" look while still managing to be uniquely different from everything else that is out there.
It's extremely light and has M-Lok on the 3, 6 and 9 o'clock positions.
If you're looking for more of a classic quad rail plus slim free float handguard style hybrid, then the RPTR handguard is for you.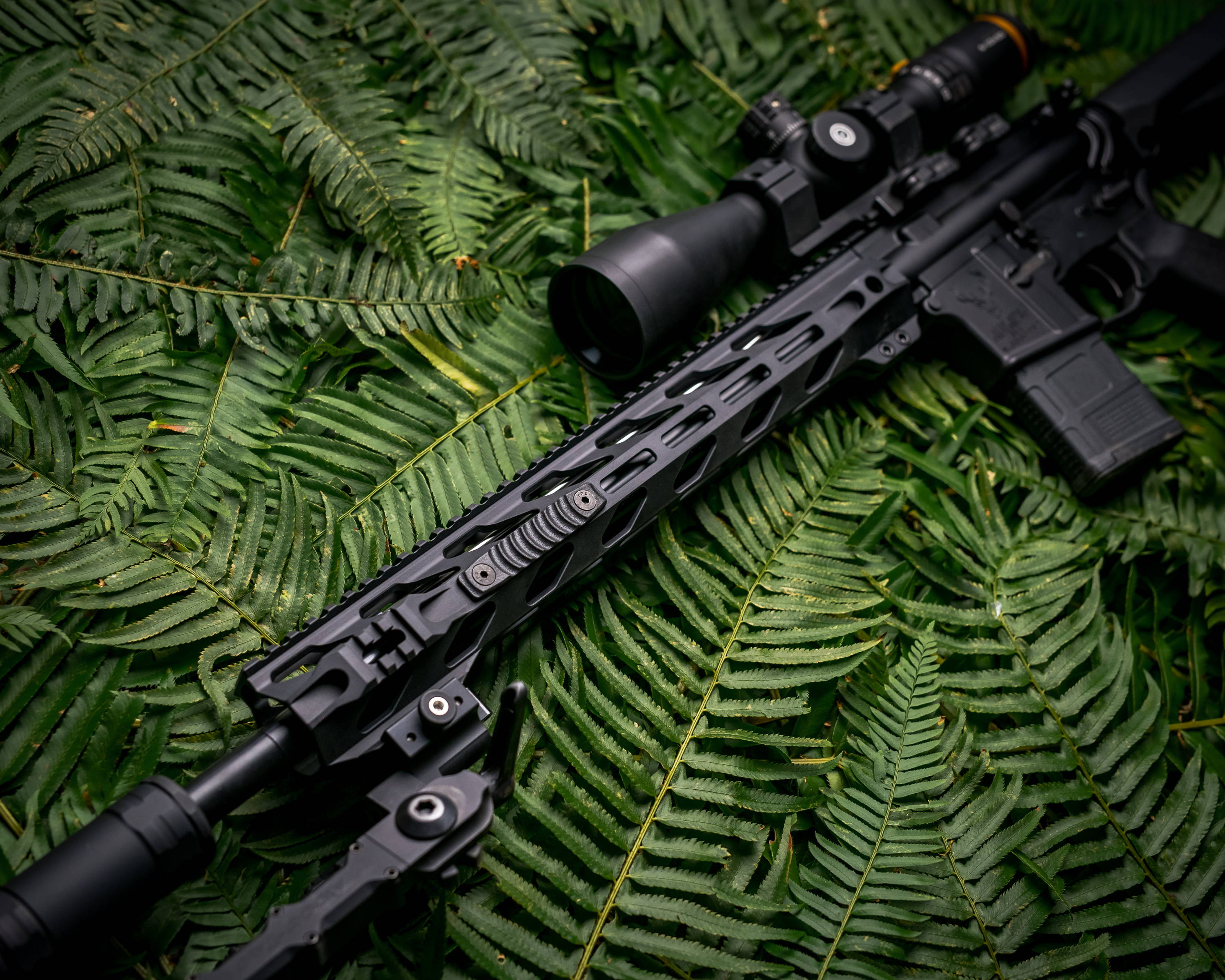 Having a full quad rail on the front is really an awesome addition especially if you want to mount a picatinny based accessory like a bipod.
I also love the M-Lok x Picatiny hybrid. Normally, full quad rails are super heavy. You really do get the best of both worlds with the RPTR.
The fourth and final model STNGR offers is called the VLCN.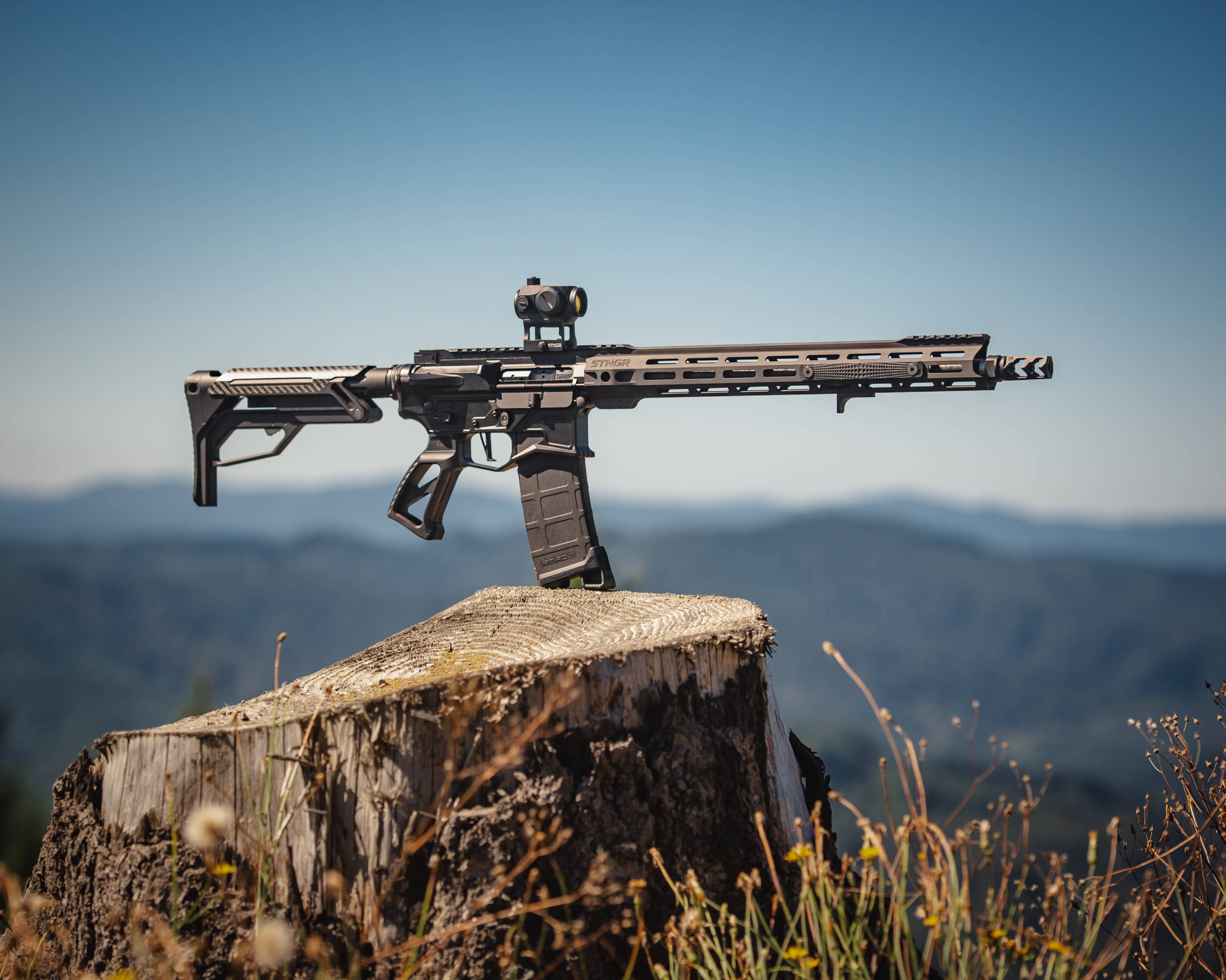 What's cool about the VLCN is that is has M-Lok everywhere. All 8 faces allow for M-Lok accessory attachment making it one of the most customizable handguards on the market.
It's extremely slim and easy to wrap your entire hand around. The VLCN is also super comfortable and doesn't overheat when shooting.
What I also really like about STNGR is that all their handguards use their proprietary non-timing barrel nut. It's seriously one of the easiest installs I've ever done.
If this is your first install, you won't have any issues completing it yourself.
2) Aero Precision
The ATLAS handguard is a reliable well priced option for any gun enthusiast. The name ATLAS stands for Aero Taper Lock Attachment System and describes the unique mounting system used to attach the handguard to the barrel nut.
Constructed from 6061-T6 aluminum, it has M-Lok attachment slots on the 3, 6 and 9 o'clock positions. Additionally, the ATLAS S-ONE model offers M-Lok attachment points in the 3, 6, 9 and 12 o'clock positions.
We really liked the additional M-Lok in the 12 o'clock position as it allows for the mounting of the light switch with cable management.
Another plus is that it's made in the US and comes in both FDE and black.
3) Midwest Industries
Midwest Industries rails are a good middle of the road option. They are built from industry standard 6061-T6 aluminum and are made in the US.
The scalloped cuts along the handguards edges are a nice touch and do increase the comfort when holding your rifle. They also help to reduce a little bit of excess weight.
Overall, there's not much to complain about. However, the price point is a little steep for what you're getting. Especially when brands like STNGR are offering a higher reviewed product, with cooler designs for $60 less, it's hard to get excited.
Ultimately, if you like it, buy it, you can't go wrong. It's just not our top choice.
4) Bravo Company MCMR Handguard
The M-Lok compatible modular rail, or MCMR for short, is a rock solid choice for new shooters and seasoned vets alike.
I really like how slim the design is and how comfortable it is to get a good grip regardless of your preferred shooting style.
With M-Lok on every face except for the 12 oclock (which has picatinny), the handguard is extremely customizable and can be perfectly suited to your specific use case.
The patented barrel nut mounting system is also a nice touch. That said, it can be a little difficult to get everything installed, especially for beginners. However, once the handguard is on you can be sure that it is not going anywhere.
5) Geissele
The most expensive option on this list by far, Geissele handguards are known for their attention to detail and rigorous manufacturing standards.
Used by the military and the FBI, these handguards are built like a tank. With 2 QD points and M-Lok all over, these rails are also super modular and allow for a wide range of accessory configurations to be added.
One of the things we didn't like about it was how bulky it felt compared to other options on this list. It was sometimes hard to find a comfortable grip and not the most comfortable to shoot with.
That said, a lot of people love the heft and confidence it provides. Again, not our preference but to each their own.
Overall, Geissele is a great rail system. If you want something that is built to be bombproof and will last the test of time, then go for it. However, for the price and bulkiness we feel there are better options especially for those upgrading their rifles for the first time.
6) Magpul
Magpul is known for their iconic polymer products and their MOE handguards are one of those items. These handguards are so popular because of their ease of installation and price.
Unlike free float handguards which can require special tools to install, the MOE drop-in handguard can be easily snapped into place while still maintaining use of the factory standard A2 front sight base.
It has M-Lok slots integrated throughout the design to allow for the easy attachment of various M-Lok accessories. The heat resistant polymer construction means you'll be able to grip the handguard directly without burning your hand.
While you don't get the benefits of free floating, the Magpul MOE polymer handguard is a great choice especially for those who want to update the look of their rifles without having to do a ton of modification.
7) Brigand Arms
By far the most unique designs on this list, Brigand Arm handguards are constructed from a carbon fiber weave lattice pattern. It may not look like it at first glance, but these rails are actually incredibly durable (as illustrated by the video below):
Due to this unique method of construction, these are the lightest free float handguards on the market by far.
The downside, however, is that you're making a trade off with functionality. The hangudards don't have a picatinny rail section running along the top. Additionally, they don't have spaces to mount additional accessories. Depending on who you are, this may be a deal breaker.
If you're looking to build an ultra-lightweight rifle possibly for competition use, then carbon fiber handguards from Brigand Arms are a solid choice.
On the other hand, if you're looking for something with more functionality (for example, you plan on adding grips, handstops, lasers or the like) then we suggest looking at a few of our other recommendations.
So there you have it, the Best AR-15 Handguards in 2022.
Hopefully you've found the perfect handguard for your next build.
What do you think of our list? Did we miss anything? Let us know in the comment section down below! We're always on the prowl looking for new handguards to test.